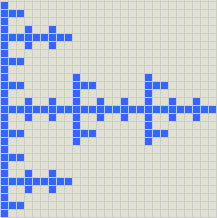 Highlights Level_2 concept 12 and Level_3 concept 14. For more on Laces go here. More Lace patterns can be found here.
Challenge 1 - try modifying the stamping pattern of this lace to create a different lace (e.g., change the rotated-T to an h).
Challenge 2 - extend the code to create a rotate-T lace that is one iteration larger.